The MYTH of Success
There's a MYTH floating around…and it's time we address it head on.
You have this THING you want to do. And you tell yourself this (2015) shall be the year you'll do it. Let me warn you…come a few days, weeks, or months from now you will be faced with this MYTH.
It's called; The MYTH of Success
We have a tendency to believe that those who succeed have *something* we just don't have. Just weren't born with. Simply can't learn, gain, or access. A skill, a connection, a handsomeness, a secret.
We wrongly believe this something is why THEY are successful and we are not yet. Why they ACCOMPLISHED the thing, while we sit back dreaming, judging, complaining, or comparing.
FACT: There is

no

SOMETHING.
Imagine someone you admire. Are they confident, capable, and accomplished? SURE they are now, but it wasn't always like this.
It's crucial we do not study people's END results…but rather study their FIRST steps.
You see…when they started out they were like YOU.
Hopeful…but terrified.
Earnest…but overlooked.
Somewhat talented…yet unrefined.
Excited…but lacking in answers and resources.
They were a rough draft.
---
"Don't compare your Chapter 1 to someone else's Chapter 20." -Unknown
---
CONCLUSION: the difference between them and you is not talent, resources, attractiveness, or pedigree.
The difference is they got STARTED and they did not QUIT.
You see life is not Win or Lose. Life is Win or LEARN.
YOU admire THEM today because…
1. They got started (though people said they were crazy)
2. They did not give up (though they failed often)
Over a dozen years ago, I started out in a small town in Oklahoma. No one knew me or cared who I was. I had a really rough childhood and overcame significant obstacles. I had learned hard life lessons that I suspected could help other people.
I wanted to spare other young people the pain of learning life the hard way. I figured that if I could help them before they messed up, that would give them a better life. I partnered with local schools to share my story and the wisdom I had learned from personal trials and triumphs.  I became known locally, regionally, statewide, countrywide and eventually internationally.  A small idea of helping a few turned into helping millions.
Trust me…I make mistakes and fail often…but I refuse to quit.
---
 …and now for some public humiliation

Website Then: No words. Wow.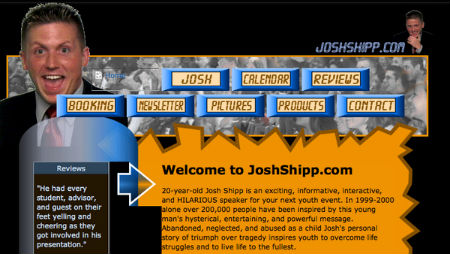 Website Now: Effective and 100% Me. Not Zig Ziglar, Jr.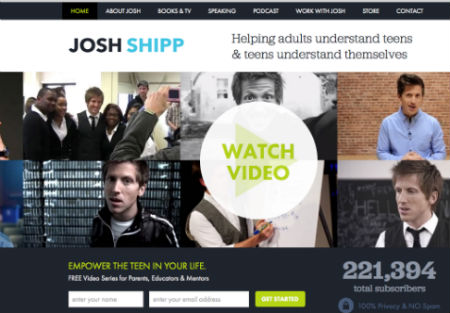 Speaking Video Then: Again, wow.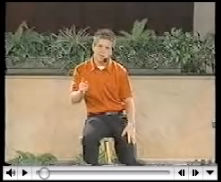 Speaking Video Now: An authentic message that lands.
---
Don't believe the myth. There is no difference. There is no something.
It takes ten years to become an overnight success…might as well get started.
2015 could just be another year OR it could be YOUR year. Your call.
Best,
Josh
P.S. If you are someone who wants to genuinely inspire others and learn how to eventually get paid for it…you're going to want to check out YSU.
I'm training an army of speakers whose messages will positively impact our world.
---