2015 Impact Report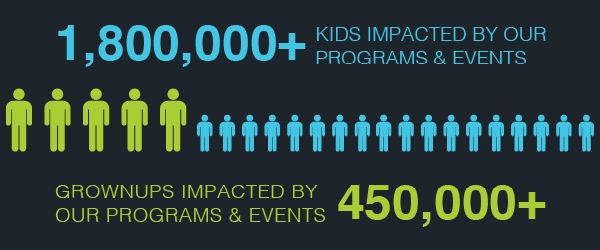 As 2015 comes to a close, I feel a deep sense of gratitude for YOU.
The parents, educators, & caring adults serving kids all over the globe.
I mean this sincerely: YOU ARE A HERO.
If you could see me right now, you'd know I'm giving you a standing ovation. Seriously, the other people at Starbucks seem weirded out.
As a way of expressing my gratitude, I wanted to share this "annual report" of our organization. It will give you a snapshot of what our combined efforts have accomplished over the last 12-months.
Admittedly, most annual reviews focus on a company's income.
Nothing wrong with that, but I want to do something different.
I want to focus on our IMPACT.
Because while we experienced tremendous growth in 2015 (almost doubling our reach from 2014), the best thing was the number of lives we got to positively impact…with you and through you…for the sake of kids around the world.
It's truly a joy working alongside leaders like you,
—Josh Shipp
---
WE LOVE BEING YODA TO YOUR SKYWALKER
We don't consider ourselves the hero in the story; kids, parents, educators, and caring adults fill that role. Instead, we see ourselves as the "trusted guide" that points the way, equips the heroes for their journey, and reminds them they've got what it takes when the going gets tough.
Here's a snapshot of the global impact we had through our school assemblies, life-skills curriculum, live events, and speaker training.
---
---
WE ADDRESS ISSUES THAT MATTER
You and I both know young people want some direction and stability while maintaining a healthy freedom to safely explore their world. We also know the journey toward a child's growth naturally involves some obstacles and real dangers.
That's why we take many of kids' biggest challenges head-on; shining a light on all sides of an issue, creatively offering solutions, and cheering them forward however they choose.
---
WE HELP BUILD MOVEMENTS THAT MATTER
We don't want to just inspire kids with a 45-minute speech or a cool resource. We want to empower them with tools and relationships that will serve them for decades to come.
And in 2015, our team made huge strides in growing movements that are bettering the lives kids, parents, and educators around the world.
Here are just a few examples of the ventures our team led in 2015:
---
COUNT ME IN
Global Broadcast, Leadership Camp, and School Tour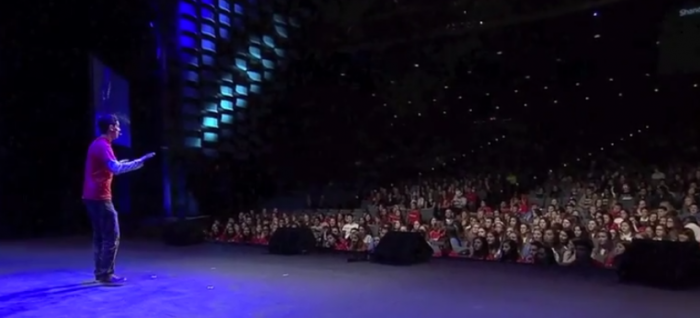 Inspiring kids to pledge more than 100 MILLION volunteer hours, Count Me In is a movement that helps kids see themselves as the solution to their community's problems.
---
THINK KINDNESS
Classroom curriculum & District-Wide Kindness Programs
We've been able to train tens of thousands of elementary kids in the ninja-like art of "intentional kindness". Through inspirational speaking presentations, an engaging 15-day curriculum, and a fun, creative resource we call the Kindness Ninja Box.  In addition, each school is invited to participate in a "shoe-drive" that has collectively helped kids in the US collect tens of thousands of pairs of shoes that we we have shipped and and personally delivered to orphanages in Kenya.
---
FIGHT THE NEW DRUG
School Assemblies, Training Resources & Exhaustive Research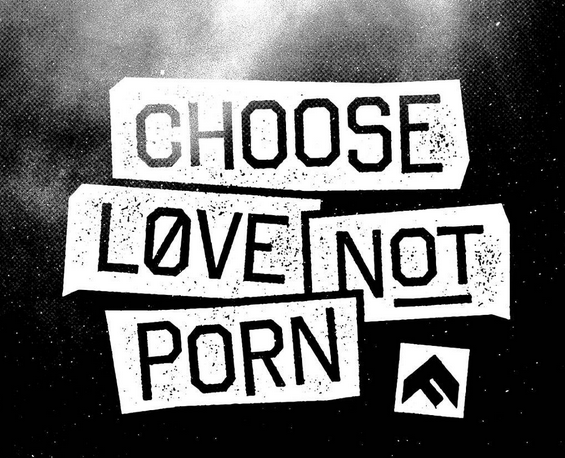 Who takes on the tough topic of pornography addiction…in a way that's actually proven to work? We do…by using age-appropriate, interactive, and research-based presentations.
We're not trying to shut down an evil empower. We're revolutionizing a culture. We're working with kids, parents, and educators, to raise awareness of the damaging impact of porn and cultivate their desire for something far better: healthy relationships.
---
AN EVEN BIGGER IMPACT IN 2016
In the year ahead, we're launching some game-changing events and resources designed to make an even bigger dent in the biggest challenges facing students, parents, and educators. Here's a sneak peek at what we're working on:
A GLOBAL SUMMIT designed specifically for parents, educators, and caring adults. The summit will bring together the top experts in education, family systems, leadership development, child development, and other critically important issues. Stay tuned for our September 2016 launch!
A REVOLUTIONARY ANTI-BULLYING PROGRAM that will give parents, educators, and caring adults unprecedented access to resources that are turning the tide on bullying.
AN UPGRADED SPEAKER TRAINING PROGRAM that will equip caring adults to reach more students, serve more schools, and make a great living while doing it.
---
We believe that every kid is ONE caring adult away from success.
And in 2015, YOU stepped up to be that caring adult in some form. Maybe for one kid. Maybe for thousands.
Either way, thank you.
Happy Holidays from our family to yours!